Oil Sands Caprock Geotechnical Lab Testing
BGES is the only high-temp full core triaxial testing facility in Calgary, Alberta
BGES offers a full suite of geomechanical testing and analysis for caprock integrity assessments. Test programs are designed to evaluate key properties including compressive, tensile and shear strengths, Young's modulus, and permeability. Lab test data can be correlated and combined with other information collected, for example mini-frac results and logs, to confirm the caprock's physical properties.
Triaxial Analysis (Low-Temp and High-Temp)

During a triaxial analysis, the caprock specimen is placed in a special pressure cell that imitates the effects of the sample being buried underground. Loads are applied to the specimen to determine various physical properties and until failure to determine its shear strength. At BGES, we understand the importance of conducting the tests correctly; shearing samples too quickly, without allowing the fluids to drain or the pore pressure to be accurately measured, can render an expensive suite of tests being inadequate.
BGES is experienced in testing full diameter cores so that samples selected can be representative of the entire caprock interval, thereby providing a better evaluation of caprock integrity, especially for caprocks that are heterogenous in nature.
The caprock core testing must be done correctly to represent true conditions for oilfield use. Therefore, it is imperative that the samples be processed by a lab that specializes in testing caprock core for steam-assisted gravity drainage (SAGD) and cyclic steam stimulation (CSS) applications. Samples need to be run cold as well as hot since part of the caprock is heated by steam.
Our suite of Index tests includes the Atterberg limit index tests, which helps to determine liquid limit, plastic limit and plastic index, hydrometer analyses to determine grain size distribution, and the X-Ray Diffraction (XRD) Analyses to study the caprock's mineralogy. Index testing combined with triaxial tests will provide better understanding of caprock integrity.
Caprock permeability testing
Permeability is a critical parameter for caprock integrity assessments. Understanding a caprock's permeability can help determine steam losses and the extent of pore pressure change into the caprock. However, it may change over time due to changes in stress and temperature conditions and is very difficult to measure accurately as caprock permeability values are usually very low. BGES has developed a permeability testing procedure specifically for SAGD projects or other forms of thermal operations. Various permeability measurements will be conducted at a combination of different pore pressure and temperature conditions.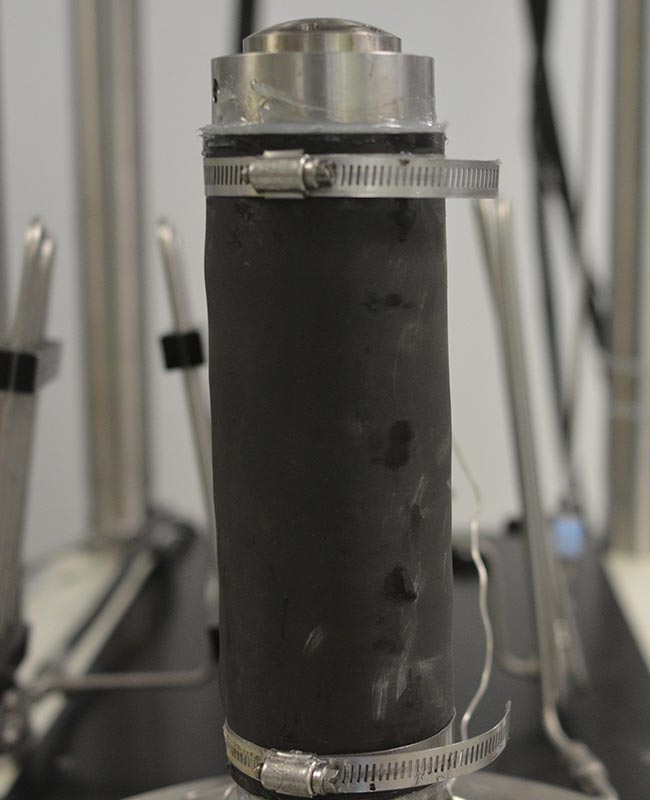 Geotechnical lab tests generate key inputs for caprock modelling and are therefore necessary to determine caprock integrity in steam-assisted gravity drainage (SAGD) and cyclic steam stimulation (CSS) projects. They also provide essential data of any new or expansion project applications.
BGES has developed a proprietary methodology for analyzing caprock integrity that encompasses a number of specialized processes for acquiring, storing, transporting and testing caprock samples. We specialize in custom geotechnical tests, including high-temp triaxial and caprock permeability, for thermal production schemes.
BGES utilizes high-quality testing apparatus and proprietary process specifically set up for caprock testing. Additional services provided by BGES includes collecting the core at wellsite and transferring the core prudently for physical testing, providing a "chain of custody" and ultimately, a complete caprock integrity analysis.
From wellsite core collection, geotechnical lab testing, cased-hole logging, reservoir and caprock injection testing, data analyses, project management, regulatory reporting, to computer simulation and numerical modelling, our comprehensive and customizable service model offers maximum flexibility for our clients.